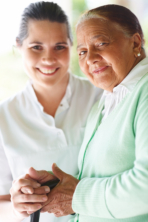 A new way to look at living your life at home – welcome to home health care services at FNI Healthcare, Inc.
FNI Healthcare, Inc. is a provider of skilled nursing, therapy services, medical social services and home health aide staffing in Virginia Beach. We are licensed to provide these services and we keep ourselves up to date with standards, new techniques and innovations in the delivery of home health care to our individual clients.
For many years now, we have expressed our compassion for clients and families like yours. We know that caring for a loved one with an injury or going through the transition towards old age with mobility problems can be difficult. At FNI Healthcare, Inc., we want you to deal with your health crises with as little worry and stress as possible. Care that's made for you should address your unique requirements with health management. To achieve this, we will coordinate with your doctor and insurance companies to ensure that you get the best possible care right where you live.
FNI Healthcare, Inc. can also give you access to medical equipment and healthcare supplies, if your health conditions require. Please get in touch with us by calling 1-757-271-3861. We look forward to speaking to you.